MPO (Multi-Fiber Push On) cables are capped with MPO connectors at either end. MPO connector is a connector for ribbon cables with at least 8 fibers, which is designed to provide multi-fiber connectivity in one connector to support high bandwidth and high-density cabling system applications. It is compliant with the IEC 61754-7 standard and the U.S. TIA-604-5 Standard. At present, the most common fiber counts are 8, 12, 16, and 24. 32, 48, and 72 fiber counts are also possible in limited applications.
MTP (Multi-Fiber Pull Off) cables are equipped with MTP® connectors at either end. MTP connector is a trademark by US Conec for a version of the MPO connector with improved specifications. So MTP connectors are fully compliant with all generic MPO connectors and can interconnect directly with other MPO based infrastructures. However, the MTP connector is a multiple engineered product enhancement to improve mechanical and optical performance when compared to generic MPO connectors.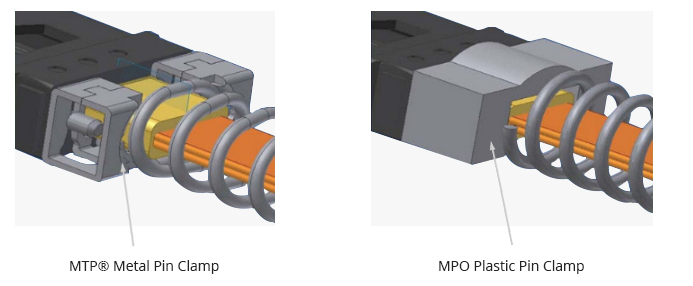 MTP vs MPO: Optical Performance
Insertion-loss
The MPO connector has been recognized as an international standard in network architecture for many years. MTP connectors, as the advanced version, are improved to minimize issues like optical loss, dropped packets, and so on. MTP connectors in MTP cables are designed to ensure precision alignment of the male and female sides, which will help to reduce the insert loss and return loss when transmitting the data in high-density cabling systems. Furthermore, MTP insertion loss rates have continued to improve, now rivaling loss rates that single-fiber connectors saw just a few years ago.
Reliability
Compared with the previous MPO cables, the latest MTP cable formats can plug in without problems, which are less likely to have accidental bumps that may result in signal instability. The internal connector components were redesigned in the MTP format to ensure perfectly centered normal forces between the mating ferrules, ensuring physical contact of all polished fiber tips in the ferrule. Besides, the lead-in on the precision alignment guide pins to an elliptical shape has also been optimized, reducing the wear and tear and debris generation from plugging and re-plugging the connector multiple times. These additional improvements to the precision of MTP® connector components resulted in increased stability and boosted durability performance while continuing to enhance the connectors' overall reliability.
Future Trends of MTP Cables
With the 20-plus-year history of endless improvements and the next generation of advancements soon to come, the MTP connectors allowed multi-fiber connectors to provide even more consistent, reliable performance. As an optimal solution designed for the trend of a high-speed, high-density, and well-organized cabling, the MTP connector scales to new parallel applications such as 400G Ethernet capable of running across 32, 16, and 8 fibers. With robust engineering, MTP connectors have also been widely adopted in a wide range of operating environments, including those with high humidity, extreme heat and cold, and fluctuating temperatures.
MTP cables also deliver exceptional value for a vast range of network technologies, which is not just built for the mega-cloud, big data, and hyper-scale computing. The latest versions of MTP connectors are designed to work not only with actual fiber-to-fiber connections but with other technologies across many vertical industries covering financial, medical, educational, colocation, and so on.